FRESH / CHILLED / FROZEN FOODS
We are the one-stop wholesale purchase point for fresh/chilled/frozen foods and serve Bakalas, Supermarket, and Hypermarkets across Saudi Arabia. Providing all kinds of meat products along with fish, dairy products, as well as fruits & vegetables, are our specialty. Our quality checking and assurance are top-notch to satisfy international standards and certifications like HACCP; SQF, SFDA.
CHICKEN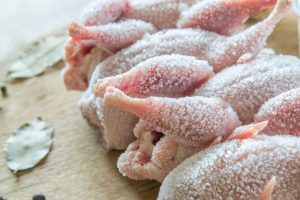 We are Saudi's biggest supplier of quality Fresh / Chilled chicken for the retailers, sub-distributors, supermarkets, HORECA (Hotels / Restaurants / Cafes). Providing quality chicken meat is our forte, and hence we strive to deliver a high standard through ample & rigorous testing. As the biggest supplier of Brazilian as well as local chicken, we are aware of providing edible quality chicken that is cent percent safe, with high quality; this is authenticated through SQF (Safe Quality Food) & HACCP (Hazard Analysis & Critical Control Points) certifications. We are the top supplier for Jagua Brazilian and Fakieh chicken in Saudi. With an eye on keeping our customers, safe, we conduct shelf-life studies on all our chicken products. As we collaborate with poultry farms that are the best in the area, known for keeping up with hygienic practices, we can deliver the required high-quality chicken as wholesale
Ready to eat?
We accommodate a variety of dietary preferences and
our entire menu is free of gluten and peanuts.